lpapazian on Feb 25th 2014

Since 1959 the all-volunteer Putney Historical Society (PHS) has worked alongside the community to preserve and protect its history and vitality. Recently PHS has taken a major leap forward through proactive community development. As the steward of two very important local landmarks – the Putney General Store & the former United Church of Putney (now Next Stage), PHS is committed to supporting the village economy through projects which bring people downtown. PHS is partnering with the non-profit Next Stage Arts Project to transform the former church into a performing arts center, gathering place, and PHS offices.
VTDigger Article on the Reopening of the Putney General Store!
Come the Grand Opening of the General Store on Saturday May 6, from 10 to 12!
Can a volunteer historical society run a Vermont general store?
Help Wanted – Putney General Store
Full and Part Time Positions
All shifts. Some weekends required.
References required.
No experience necessary
But…
An ideal applicant would:
– Have a solid work ethic.
– Have Grocery, Deli, Bakery and/or Kitchen Experience.
– Work well on a team.
– Be physically able to cope with the demands of the job.
Contact:
Putney General Store
802.387.4692
Second Putney General Store Pre-Opening Porch Sale
Saturday April 22nd, 10 to 4!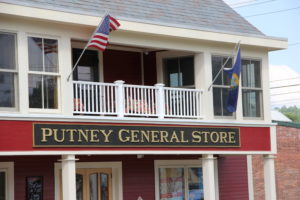 The Putney Historical Society will hold a Pre-Opening Porch Sale at the Putney General Store on Saturday April 22nd from 10 to 4. Items on sale will include miscellaneous hardware, household items, health and beauty products, clothing and accessories at discount. Please come and help us prepare to open the store and find some good bargains at the same time!
Putney General Store
The Putney Historical Society is working on re-opening the store ourselves with the help from community and expert advisors. We hope to open in March or as soon as possible…stay tuned! (PS many many thanks to Hotwheelz for the upcoming fundraiser to benefit the reopening of the general store. Information regarding the fundraiser is at http://iputney.com/spin-for-the-putney-general-store/
Any donations towards this effort will go toward startup costs and equipment repair and can be made directly to PHS at Putney Historical Society, PO Box 260, Putney, Vermont 05346.
Sadly there will be no pharmacy at this time and plans for the upstairs are ongoing. Please call Lyssa Papazian at (802) 579-3698 for info or with ideas.
Last Minute Shopping?
Here's the perfect gift for Putney-ites near and far!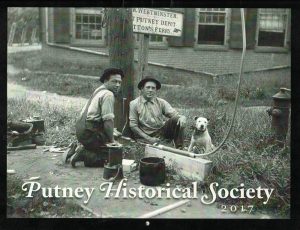 The 2017 Putney Historical Society Calendar – now available at :
Putney General Store
Putney Town Hall
Putney Coop
Putney Diner
Katie's
or email us at putneyhistory@gmail.com
Just $15- all proceeds benefit the PHS!
2016 PHS Annual Meeting: Sunday November 13
1953 Putney In Living Color and Other Vintage Films of Town
1:00 -3:00 pm
at Next Stage (15 Kimball Hill)

Free and open to all
Refreshments will be served
1953 Putney in Living Color!
Come see a real slice of Putney history before the Interstate. We will be showing a film of scenes around town shot for the town's bicentennial in 1953. The list of locations includes West River Basket Company, Putney School, Putney Central School, Senator Aiken's home and his nursery, Darrow's Orchards, the Federated Church, Cumming's Store and the center of town, the Hannum, Goodell, Hamilton, Braley, Frost, Maley, Hubbard, Watson, and Scott farms, and much more. The film was made by Edward Tyler and Richard Gamble.
We will also be showing 2 very short Putney School films from 1938 shot by one of the first students showing Harvest Festival of 1938 and the campus clean up after the 1938 Hurricane. These are in color too.
Following the older films, we'll be showing the 2003 film made of the Town's 250th Anniversary Parade. As one participant noted: "Half the town was in the parade and the other half watched!"
The films will start after a brief business meeting. Refreshments will be served.
NEW REGULAR OFFICE HOURS – SATURDAY MORNINGS 10:00 am-1:00 pm
After a hiatus for construction at Next Stage, the Putney Historical Society is pleased to announce that the office at

15 Kimball Hill (Next Stage) will now be open Saturday Mornings from 10:00 am to 1:00 pm.
Come check out our wonderful historic photos, start a genealogy project, research your house, or just share stories and look at a few objects from the collection each week. Hours are designed to overlap with Town Clerk Saturday hours in case research at town hall is part of your project. If you have research needs and can't come during regular office hours, please email us at putneyhistory@gmail.com and we'll try to find a time that works.
PHS Office Address Mailing:
15 Kimball Hill (Next Stage) P.O. Box 260
802-387-4411 Putney, Vermont 05346
PHS 2016 Calendars! (And Putney History Books)
Get yours at PHS office (Saturdays 10 am to 1 pm) or by mail – contact us.

Historic Pews Still Available for Sale
The Putney Historical Society is selling a limited number of the historic 1893 church pews at Next Stage. They have been modified so that they are 8 feet long and are $500, including brand new custom cushions. [They are sold "as-is" – with some minor idiosyncrasies on one end ]
All proceeds will go towards the building renovation Capital Campaign. Several have been sold already, but there are a handful left. They are great for porches, hallways, and large rooms.
Please call or email Barry Stockwell if you are interested. (802) 387-5772 or stobro@svcable.net
More articles
BEFORE AFTER
Belfry & Roof Restored!
Thanks to several early local supporters and a matching grant from the Vermont Division for Historic Preservation, PHS has just completed the restoration of the belfry and the repair of the slate roof. The belfry work was done by master carpenter, Chris Patton and his crew. The roof was repaired by Phoenix Roofing and the belfry was painted by S & S Painters. All the work was ably coordinated by volunteer Michael Wells. PHS is very grateful to this wonderful team for a job well done!
Also take a look at the sub pages.
No responses yet